Watch Video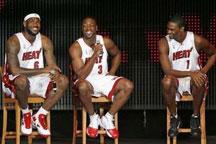 Play Video
The NBA's newest superteam took the stage in Miami. The Heat unveiled its trio of high-profile free agent signings. Dwyane Wade, LeBron James and Chris Bosh shared the spotlight for the first time on Friday.
The three stars made their debut appearance as teammates in front of 13,000 delirious Heat fans at American Airlines Arena. They arrived in their new uniforms: Bosh with number 1, James wore number 6 and Wade in his signature number 3. The trio hold the promise of winning multiple NBA championships for the Florida franchise. The locals helped make their stars feel at home, giving all three players the keys to the district of South Beach and the city of Miami.
Dwyane Wade, To Stay at Miami, said, "This surpasses a dream come true, um, you know you always want to put yourself in the best position possible to be able to win and to have an opportunity to team up with, you know, arguably the best trio to ever play the game of basketball is amazing."
Lebron James, Moves from Cleveland to Miami, said, "It feels right, to be in this position, to wear this Heat uniform, um, every single night we're going to make the world know - not just his league, we're going to make the world know that the Heat is back."
Chris Bosh, Moves from Toronto to Miami , said, "When you get wins all the individual accolades come. I averaged my career best last year and nothing happened. So, me personally I can take it, I just think about it sometimes I mean just playing with these guys yeah sure the numbers are going to go down but like you said the wins are going to go up and all that other stuff, you know, it just falls into place."
Editor:Zheng Limin |Source: CNTV.cn