Watch Video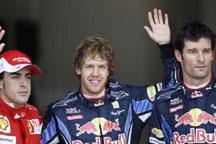 Play Video
Formula 1 is making its annual stop in Great Britain this weekend. A big crowd came to see if Red Bull's qualifying dominance would continue, or would McLaren finally spring a surprise with a front-row start for Sunday's race at Silverstone?
McLaren struggled in practice on Friday, so the English team took its new diffuser off the cars of championship leader Lewis Hamilton, and his teammate and closest challenger, Jenson Button. Hamilton will only start fourth on Sunday's grid, Button will begin 14th. Red Bull's Mark Webber is back in action after escaping serious injury in a big crash at Valencia. The Australian's taken four poles so far this season, and squeezed into a front row spot at the revamped Silverstone circuit. But Webber could not top the performance of his teammate Sebastian Vettel.
Vettel registered his fifth pole of the season with a time of one minute 29.615 seconds. Sunday will be the second time in as many years the German will lead off the field at the British Grand Prix. He took the pole and the win last year. Red Bull's won nine pole positions in ten rounds of this year's F-1 championship. The team's taken both first and second in qualifying five times.
Editor:Zheng Limin |Source: CNTV.cn