Watch Video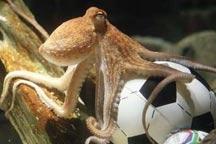 Play Video
After awarding trophies to the best team and the best player, maybe we should also give one to the all seeing Octopus Paul.
Paul correctly predicted the result of the final, making it his eighth success in a row. The German octopus, who was actually born in England, made his choices by picking food from transparent containers lowered into his tank. He has become a major celebrity of the animal kingdom through his prowess in selecting winners. But because Paul is two-years-old, he is unlikely survive to the next tournament in Brazil, as Octopus' tend to only live 3 to 5 years.
The only hope is that another animal genius will emerge in the meantime current contenders includes Singapore's predicting parrot, although his record is no match for the all-seeing Octopus.
Now we can hold our expectations to other animal foretellers, such as a Singapore parrot.
Editor:Zhang Ning |Source: CNTV