Watch Video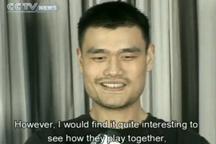 Play Video
Houston Rockets center Yao Ming will return to action this October. The Chinese giant missed last season due to injury. He's talking about his comeback, and giving his views on the various changes on and off the court in the NBA.
Yao Ming returned to training early this year. From then on, his training schedule is going accordingly.
Yao Ming said, "My major goal at the moment is still to work on my recovery. The first step to return to court and play as I used to. " "The intensity of my training is increasing everyday. Apart from recovery training, I have started rotation training in a team
The biggest news ahead of the new season is definitely that Miami landed a King. Led by MVP LeBron James, the Heat trident, also including Dwayne Wade and Chris Bosh, aims to win the Championship title. Yao also expressed his views on the fired-up team.
Yao Ming said, "For sure they are top-notch players among their generation. They could make a good team. I'm very interested in watching how they play together."
Yao also shared his views on Lakers' defense of the NBA title last season.
Yao Ming said, "I thought Lakers had a bigger chance to win, but I really hoped that the Celtics could win it, because I think those veterans worked very hard.'
Yao Ming's recovery training will go on as his return to court can be expected soon.
Editor:Du Xiaodan |Source: CNTV.com