Watch Video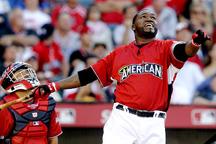 Play Video
It is All-Star Week for Major League Baseball, and some of the game's hardest hitters took the spotlight in the Home Run Derby. Boston Red Sox slugger David "Big Papi" Ortiz looked to make an impression at Anaheim California's Angel Stadium Monday night.
The squad wasn't exactly a star studded row. It featured five first-time competitors and no returning champions. But "Big Papi" Ortiz came to the plate with a series of mighty swings. He hit his seventh home run of the final round of competition into the right field bleacher seats...showing strength and power to put his mark on the contest.
Ortiz continued to blast bombs into the stands...and didn't seem to get tired as he lined a shot just inside the right field foul pole...and launched another towering home run up and into the seats.
Ortiz's top challenger was Hanley Ramierez from the Florida Marlins. He matched "Big Papi" in the first two rounds, but finally ran out of gas at the end. Ortiz wins in his first Home Run Derby appearance since 2006.
Boston's beloved hitter is back at the top of his game with 18 homers and 57 RBIs this season, earning his sixth All-Star berth.
Editor:Du Xiaodan |Source: CNTV.cm