Watch Video
Play Video
One of international football's biggest names is headed for the United States. Frenchman Thierry Henry will become New York City's newest sporting superstar after agreeing to join the New York Red Bulls of Major League Soccer.
Henry said, "It was always a dream, for me to live in New York... obviously I am not raised and born here, but to say one day that I could be a New Yorker, and represent the team, and try to defend the colours of New York."
Henry says he's always loved the Big Apple, and can now call it home after retiring from the international football scene. The 32-year-old French striker's deal with the Red Bulls will see him playing for the side for the next four-and-a-half seasons. Henry's been one of Europe's top players over the past ten years, and played a key role in helping Arsenal and Barcelona win multiple titles and championships.
He also said, "To be honest, I didn't even want to have any other options. That was the only option in my mind. I always said that the day that I'm going to feel like, well, the day I was going to leave Barcelona, I always wanted to come and play in the MLS, and always my first choice was New York.""Yes, I'm still fresh. You know, maybe I'm not like the 20-year-old guy who used to run past everybody, but it's all about readiness, and as you said, thinking on the pitch also."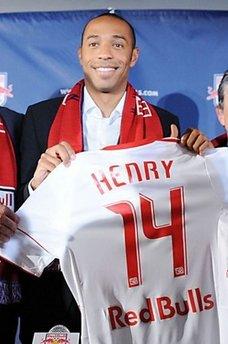 French soccer star Thierry Henry holds
a team jersey at a press conference
where he was announced as the lastest
player for the New York Red Bulls of
Major League Soccer at Red Bull Arena
in Harrison, New Jersey. Henry on
Thursday confirmed that he has retired
from international football after
making 123 appearances and scoring a
record 51 goals for France.(AFP/Stan
Honda)