Watch Video
Play Video
Another of international football's legendary figures seems to be staying in the spotlight. The Argentine Football Association says it is prepared to offer Coach Diego Maradona a four year contract extension.
The deal would take Maradona through the 2014 World Cup in Brazil.
Ernesto Cherquis Bialo, AFA Spokeserson, "The president of the AFA is going to ask the executive committee for the subsequent meeting, a report, a balance and a plan to resume the contract for another four years that will sew together 2010 with the final blast of the last game, the last act - which we hope will be the seventh game - in Brazil in 2014,"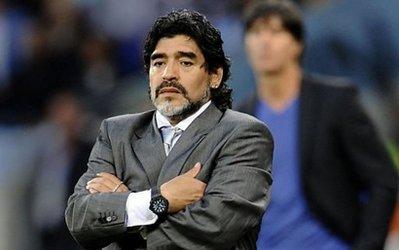 Argentina coach Diego Maradona, pictured on July 3, hinted he may
resign as he returned home following his side's World Cup elimina-
tion, according to a report from Argentine cable channel Cronica TV.
(AFP/File/Daniel Garcia)
Related stories