Watch Video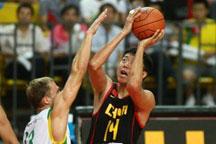 Play Video
China's Liu Wei scored a game high 21 points against Lithuania as the reds went on to secure a moral boosting four point victory in Forshan.
China enjoyed a decent start.
Rookie Wang Peng not only scored the first two points for China, he also successfully blocked the opponents' shots on several occasions.
5 minutes into the game, Veteran Wang Zhizhi was on court and showed his power helping the score to 11-6 in China's favour.
The Home side then stepped it up, Wang Shipeng and Liu Wei exploded into life. Liu hitting this three-pointer with ease.
Successive threes gave China a 9 point cushion heading into the third.
However, Lithuania fought back and their relied on organisation in attack and they brought the scores level at 75 each.
In the fourth quarter, at key moment, An assist from Liu Wei helped China build an advantage.
Liu also combined with Wang Zhizhi to give 5 successful free throws. China ran out 86:82 winners over Lithuania
Liu Wei, Team China, said, "Our team is still a young team. Team Lithuania are more powerful than Argentine team and we met a lot of troubles in the game against them. We will try our best in another two matches."
Editor:Zhang Pengfei |Source: CNTV.CN