Watch Video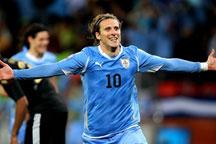 Play Video
Spain's world football champs may only be wrapping up their celebration, but the just-concluded FIFA World Cup continues to make headlines. First, we take a look at a list of top performers in FIFA's all-star soccer lineup from South Africa 2010.
Spain's Iker Casillas did not concede a goal during the knockout stages, and only gave up 2 overall. He made a miraculous foot save off Dutchman Arjen Robben in the final. Casillas confirmed his status as the best goalkeeper in the world.
Carles Puyol gets the honor at centre back. He stepped up to help Spain eliminate Germany in the semi-final.
Right back Maicon: he turned out to be one of Brazil's best. He came up with an impressive goal against DPRK.
Central midfielder Andres Iniesta of Spain is an obvious choice. Teammates like David Villa and Xavi made their mark on the tournament, but Iniesta provided the crucial link in the Spanish machine. He scored the tournament-winning goal to cap a man-of-the-match performance in the final.
Germany's Bastian Schweinsteiger made the midfielder list along with Sergio Ramos and Phillip Lahm. Schweinsteiger's passing and shooting skills helped Germany get to the semis.
Wesley Sneijder's midfield play for the Netherlands pushed them into the championship match. Holland's pragmatic style put more pressure on Sneijder to deliver. He scored five goals in the World Cup finals.
Striker Diego Forlan: the Uruguayan scored 5 goals and drove his side to a surprising spot in the semi-finals.
David Villa of Spain made even more of an impact after teammate Fernando Torres suffered a drop in form. Villa's 5 goals elevated him to a spot as one of the top 3 strikers in the world.
Finally, Spain coach Vicente Del Bosque: Real Madrid released him in 2003, but he used that experience and more from a stint at Barcelona to lead his team to the World Cup crown.
Editor:Zhang Pengfei |Source: CNTV.CN