Watch Video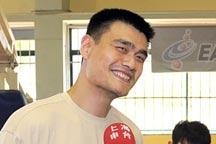 Play Video
He's a larger than life figure both on and off the court, and Yao Ming also has lofty goals for his Shanghai Sharks. Yao, who now owns his old club team is back in China, preparing for a charity tour while also giving operations the once over ahead of the new CBA season.
Making an appearance at the Shanghai Sports Institute, Yao Ming met up with his management team and had a look around the clubs training facilities. The NBA player is back in China to prepare for a charity fund-raising tour. But another area of his focus will be how his team are gearing up for the new season and how the club is structuring its future development.
Shanghai Sharks owner Yao Ming said, "We should not only consider just one season. I hope to consider the next fives seasons or even 10 seasons in the future. We should not only consider the team's strategic level in the competition. The team's effect and its responsibility to the whole society is also under our concerns . "
Following the departure of head coach Bob Donewad Jr to the Chinese National basketball team in April this year. His father -- renowned American college basketball coach Bob Doewald Sr took over duties of coaching the Shanghai club so it's a case of like father like son.
Yao Ming said, "Bob Donewad Jr's leaving indeed brought some effect to the team's training. But it's also an honour for him to contribute to the national team. I haven't said hello to Bob Doewald Sr. I would like to thank him for coming to China to help the team. He is an experienced coach. I think he would be very helpful for the team's summer training."
Yao's former teammate Steven Francis recently said he would likely to play basketball for the Sharks. But Yao stressed that it should depend on the coach.
Yao Ming said, "Francis is a friend of mine, and he is also a good player. But this should depends on the coach when it comes to how to form and manage the team"
Talking about the upcoming charity matches, Yao Ming said seven NBA players will join him on tour to raise money for the Yao Ming Foundation. Other players will include his teammate Aaron Brooks and Chase Budinger.. They will play two matches on July 23rd and 28th, one with China's national basketball team in Beijing and the other with the Shanghai Sharks. But Yao, who sat out last season following foot surgery, added that his physical condition will not enable him to play.
Editor:Zhang Ning |Source: CNTV