Watch Video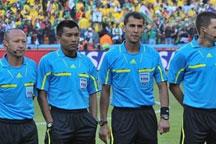 Play Video
The Technical Sub-Committee of the International Football Association Board or IFAB has approved several requests to continue its experiment to use two additional assistant referees at a meeting held on Wednesday in Cardiff, Wales.
In May this year, a special meeting was convened in Zurich to assess the additional assistant referees performance used during last seasons Europa League and decided to continue trials. The meeting pinpointed four criteria to continue tests in Brazil, Asia, Mexico, France.
It will also feature in UEFA's Champions league over the next two years. The move comes following numerous incorrect calls at the World Cup where legitimate goals were correctly ruled out.
Editor:Zhang Jingya |Source: CNTV.cn