Watch Video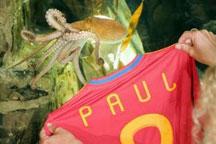 Play Video
Psychic octopus Paul may have retired but he's still basking in the glory of his perfect World Cup predictions. Paul's German aquarium says the eight-legged oracle was declared an "honorary friend" of a Spanish town in a ceremony on Thursday.
A delegation led by Carlos Montes, mayor of the northwestern Spanish town of O Carballino, presented the statue and a football shirt with the number eight.
O Carballino had previously sought - unsuccessfully - to borrow Paul to promote a seafood festival. Paul correctly predicted the outcome of all seven of Germany's games, plus Spain's victory over the Netherlands in the final.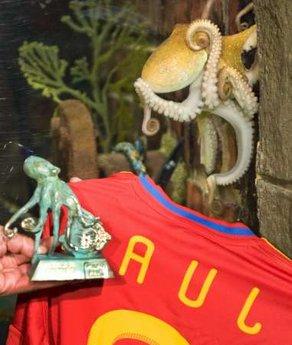 "Paul", the so-called "octopus oracle", is
presented with a jersey and a bronze statuette
at the Sea Life Aquarium in the western German
city of Oberhausen July 22, 2010. The octopus on
Thursday was nominated as the "favourite friend"
of the Spanish town Carballino.REUTERS/Kirsten
Neumann