Watch Video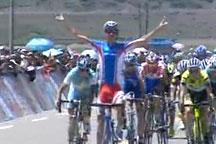 Play Video
The 2010 Tour of Qinghai Lake completed a grueling stage seven on Friday. The 3,900-meter high Haitar Mountain provided a tough challenge for all the riders in the field.
Stage seven took the riders from Xihaizhen to Qilian.
It was a 123 km trek featuring two K.O.M. climbs including a hors categorie or "beyond categorization" climb to 3,869 meters just fifteen kilometers from the finish.
Wu Shengjun of Qinghai Tianyoude Cycling Team and Hongkong Cycling Team's Yeung Ying Hon broke away from the peloton early in the stage and tried to build the lead from then on.
But, when the race approched Haitar Mountain, the leading group were caught during the tough climb.
In the 15km downhill race to the finish, there was a group sprint to the line.
Finally, Boris Shpilevskiy of the Russian National Team won the stage with a tiny advantage in three hours two minutes and one second.
Boris Shpilevskiy, Russian National Team, said, "It was really a tough stage. The climb is quite difficult and it is exhausting. I won the stage thanks to the cooperation of my teammates."
Liu Peng, China National Team, said, "It was so difficult. I felt out of breath during the race. "
Hossein Askari of the Tabriz Petrochemical Cycling Team kept the yellow jersey. The eighth stage is from Qilian to Qingshizui with a distance of 150km.
Editor:Zhang Pengfei |Source: CNTV.CN