Watch Video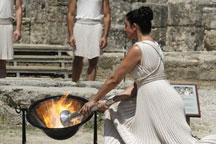 Play Video
A long journey is underway for yet another Olympic flame. Sport officials staged a torch lighting ceremony in Greece, to mark the starting point for the inaugural Summer Youth Olympics.
They held the ceremony at the atmospheric Temple of Hera on Friday. The Games will take place in Singapore between 14th and 26th of August. Before then, the Olympic flame will visit five 'Celebration Cities': Berlin, Dakar in Senegal, Mexico City, Auckland in New Zealand and the South Korean capital of Seoul.
The five cities represent the continents of Asia, Africa, Europe, Oceania and the Americas. Singapore won the right to host the Youth Olympic Games in February 2008, after beating a bid from Russia's capital, Moscow in the final round of votes.
Jacques Rogge, IOC President, said, "The Youth Olympic Games will give the world's best young athletes a chance to compete, to learn to and share experiences with other young people."
The first Youth Olympics will feature 26 sports, forming a total of 31 disciplines.