Watch Video
Play Video
The nation of Spain is celebrating yet another champion. Cyclist Alberto Contador returned home on Monday, after winning his third Tour de France title. He joins a long list of winners that have put Spain on the global sports map.
Hundreds of fans met Contador, mostly from his home town near Madrid.
Spain's World Cup victory earlier this month confirmed the country's position as the best footballing nation in the world, two years after it began its resurgence with a European Championship win.
Contador's triumph was his third in four years, and heralded the arrival of a new cycling superstar.
The 27-year old is poised to challenge Lance Armstrong's record of seven Tour titles.
Contador has already joined Greg LeMond, Louison Bobet and Philippe Thys as a three-time Tour champion.
Spanish Prime Minister Jose Luis Zapatero said he expects the rider to go on and win more.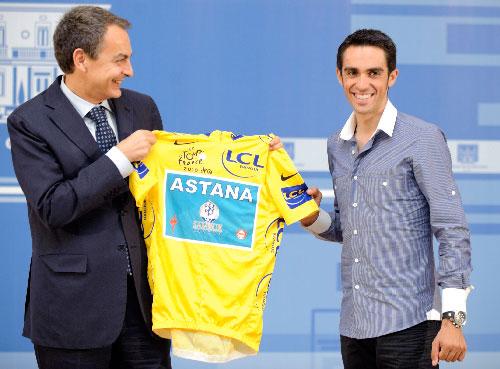 Spain's Prime Minister Jose Luis Rodriguez Zapatero (left) and Alberto Contador
pose with the Tour De France overall leader's yellow jersey. (The Associated Press)
He said, "This makes us a better country and will lead us to many more success. Alberto, congratulations. Champion. Go get the fourth one. Alberto Contador will win his fourth France Tour, I am fully convinced of that."
Contador says it's a proud time to be a Spaniard.
Contador said, "I do feel Spanish and I am proud to be a part of this moment of Spanish sports. I think other countries feel envious. I hope this will last for a long time, and I will keep trying to do my best and achieve more success."
Contador was the guest of honor at the Moncloa government palace. Then, he headed to another reception, 20 kilometers south of Madrid, back in his home town of Pinto.
Related stories
Editor:Zhang Jingya |Source: CNTV.cn