Watch Video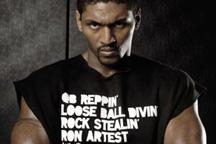 Play Video
Los Angeles Lakers forward Ron Artest says he is determined to help the Lakers repeat as NBA Champions.
Artest made the comments as he tipped off his 2010 China Tour in Beijing on Wednesday following teammate Kobe Bryant, who was was in town earlier this week.
Artest who won his first NBA champion with the Lakers last season proved he is a team player. In his meeting with the Beijing fans, he was leading the PEAK Team which consists of five NBA players. Along with Artest, Jason Kidd from the Dallas Mavericks, the Houston Rockets Shane Battier, Sacramento Kings Carl Landry and Michael Pietrus of the Orlando Magic were all in the capital.
For the second straight summer, Artest will share his experiences with the Chinese fans during his tour of China.
Artest says, the most important thing for him right now is to win another title with the Lakers.
Editor:Zhang Jingya |Source: CNTV.cn