Watch Video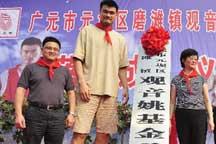 Play Video
Big hands, Big head, even bigger heart, and he's put even larger smiles on some school children's faces.
Yao Ming is something of a legend round these parts and returned to the schools which his charity built following the 2008 Wenchuan earthquake.
Yao Ming is back at the schools as a part of his "Yao Foundation" and called for more people to pay attention to kids living in poor conditions.
Sichuan Jinqiang basketball club donated 500,000 yuan to his charity to aid children's healthy development and ramp up school facilities. Yao asked the children to work hard and never give up and pursue their dreams.
Yao Ming, Yao Foundation Organiser, said, "We don't just need classrooms, books, computers and learning facilities. We also need to care more about children's personal development. We will work harder on this. All I want: is to give the children a brighter future."