Watch Video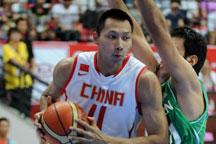 Play Video
China's road through the Stankovic Cup came to an end in a battle for third place. The home team would try to redeemed itself with another victory over Iran in the bronze medal playoff at the basketball tournament in Liuzhou, China on Sunday.
Team China's disappointing loss to Slovenia on Friday left the hosts facing Iran in a consolation match. Chinese reporters hammered American head coach Bob Donewald Jr. for benching star Yi Jianlian 11 minutes into Friday's game. The Washington Wizards forward made up for lost time on Sunday. Yi keyed a first quarter charge for China.
But Iran took control in the second quarter. Arsalan Kazemi went high on a break and slammed against China's Zhou Peng. Iran by 10.
Early in the third quarter, Mahdi Kamrany finished off a break. Visiting Sacramento Kings forward Carl Landry watched Iran make it an 11 point game.
But then Yi Jianlian took over. He scored 18 for the game, including this follow-up slam. His free throw cut Iran's lead to eight points.
Moments later, China turned things completely around. Liu Wei sunk a three-pointer to give China a 47-43 lead.
In the fourth, China began to put some distance on the scoreboard. Zhou Peng hit from three-point range.
China went on to beat Iran 76-58. Donewald defended himself against his critics in the Chinese media.
China Head coach Bob Donewald Jr., said, "I don't feel, I don't understand what you guys keep talking about pressure. I don't feel it, I don't see it and I'm not worried about it.And neither do my players. I'm not going to let them. I'll take the hits. You guys can crush me all you want, but we're going to do this the right way."