Watch Video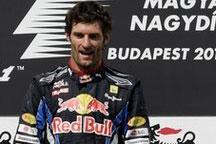 Play Video
There was plenty of drama on and off the track at Formula One's annual stop in Hungary. Australian Mark Webber and his Red Bull teammate Sebastian Vettel would try to finish off a strong weekend at the Hungaroring circuit on Sunday.
Vettel was looking to take full advantage from a hard-fought pole position. The German got off to a good start and stayed in front of Ferrari's Fernando Alonso after the first corner. Vettel's teammate Webber slipped to third, ahead of the second Ferrari of Felipe Massa in fourth. But the race took a turn when debris on the track on lap 16 brought out the safety car. Vettel pitted for a change of tyres. And then chaos broke out in the pitlane. A loose tire distracted the Renault team of Robert Kubica. Kubica left his pit box a little to early and collided with Force India's Adrian Sutil. Sutil went out of the race, Kubica gained a drive through penalty and later retired.
McLaren's Lewis Hamilton rode well off the pace of the flying Red Bulls. But he was still in the points until a transmission failure brought an early end to the championship-chasing Englishman's race
Then the race took another bizarre twist.Vettel held a comfortable margin when another safety car period started. The German failed to stay within 10 car lengths of the safety car and was forced to serve a drive through penalty. Vettel returned to the track in third place, behind new front runners Webber and Alonso.
Vettel simply couldn't get past Alonso, and Webber built up a big lead to the checkered flag. Alonso held off Vettel for second. Massa took fourth.
Mark Webber said, "To maximize your opportunities is always good, and irrespective of what happens to your rivals, so not getting ahead of ourselves, we still have some big events coming up, they all dish out the same amount of points but all of them will provide different challenges for us as a team, and technically for the cars."
Editor:Zhang Ning |Source: CNTV