Watch Video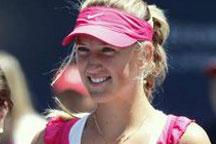 Play Video
Over to women's tennis and the march to the next Grand Slam in the United States. Victoria Azarenka from Belarus met Russia's Maria Sharapova decide the title at the Stanford Classic.
Sharapova and Azarenka competed not just with their tennis skills, but also with their voices. They are among the loudest players on tour. Sharapova kept the audience awake and alert with some noisy hits, and managed to encourage her opponent's shouting. Azareknka kept it close on the sound meter as well as the scoreboard at Stanford.
Belorussian Azarenka had just celebrated her 21st birthday. But she was nowhere near childish in the match against Sharapova. She claimed all the big points at key moments. Azarenka had one more break than Sharapova and did not fold when Sharapova saved three straight set points. Azarenka won the first set 6-4.
Sharapova picked up the pace and the volume in the second set. She also raised the number of errors and faults to more than double her opponent's. At the other end, Azarenka put the match into cruise control and sealed the second set with ease. She won it 6-1 to claim her first singles title this season.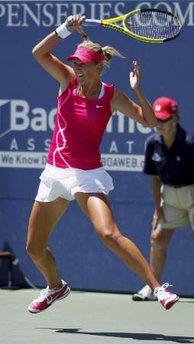 Victoria Azarenka of Belarus watches
her shot to Maria Sharapova of Russia
during their Stanford Classic women's
singles final match in Stanford,
California August 1, 2010. Azarenka
beat Sharapova 6-4 6-1.
REUTERS/Kevin Bartram
Editor:Zhang Ning |Source: CNTV