Watch Video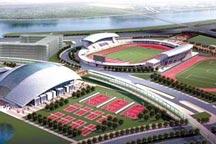 Play Video
We are now officially 100 hundred days away from the start of the Asia Games in Guangzhou. The 16th edition of the Games will see thousands of athletes and spectators descend on the city.
To mark the special countdown, a venue tour was held for local and international media
The first stop was the Asian Games Town Gymnasium which is located in the south of the Guangzhou Asian Games Town.
The gymnasium has a capacity of 8,000 including 6,000 permanent seats and 2,000 removable seats.
It will host Gymnastics, Billiard Sports and Squash events of the Games.
Zhu Tao, manager of Asian Games Town Project, said, "We will put up glass all around the structure. It is specially designed for the final of the squash event so that all the spectators can appreciate the game from all angles."
The arched roof boasts a rainwater collection and recycling system.
The venue is scheduled to be delivered at the end of August and host test events in September.
The next stop, the Guangdong Olympic Aquatics center with a capacity of 4,400.
It is located in the north of the Guangdong Olympic Sports Center.
The venue will host swimming, diving and Modern Pentathlon events.
The water temperature is kept between 25 and 27 degree centigrade in all pools. And, the water meets drinking-water standards.
After the Asian Games, the venue will be used as an international training center and training base in South China for Chinese national squads.
Besides the main venues in Guangzhou, facilities in Foshan, Doguan and Shanwei are ready for the games as well.
The Dongguan basketball stadium of the CBA champions Guangdong Team will be the venue for the weightlifting event of the Asian Games.
Editor:Zhang Ning |Source: CNTV