Watch Video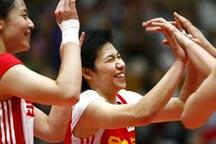 Play Video
China's excellence in women's volleyball would be put to the test in the Chengdu Stage of the FIVB World Grand Prix. The Chinese team met Thailand, the squad which defeated China in last year's Asian Championship.
The Thai lineup was basically the same as in last year's Asian title bout. Wang Yimei was still among the Chinese starters despite a weak performance in her last game. China played a bit tight in the opening set and trailed early. Coach Wang Baoquan called a time out right away with his team down 5-1.
The Chinese women came back with a stronger effort on defense. Their average height of nearly 190 centimeters put the Thai front line at a disadvantage. The Thais average 176 centimeters and China scored 8 straight points to spark a big comeback. Wang Yimei came off in the 11th minute, and Chen Liyi took her place. China took the first set 25-16.
The Chinese team finally hit stride in the second set. Hui Ruoqi scored with some big spikes and put the Thai defense on the back foot. Thailand sank under the pressure and China won the second set at 25-16 in just 20 minutes.
But Thailand found the key to stopping the Chinese attack in the third set. The Thais improved their blocking to keep the scoring close. China answered by winning points at the crucial moments, and saved one after another on defense. The Chinese demonstrated their height advantage at the net again, and the Thais could not beat the Great Wall at the end. China won 19 points overall with its front line blocking,compared to 7 for Thailand. The Chinese women took took the 3rd set 25-22 for a 3-games-to-none victory.
Editor:Zhang Ning |Source: CNTV