Watch Video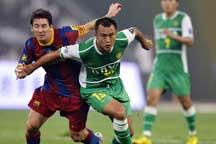 Play Video
It has only been a four day jaunt in Beijing but Spanish La Liga Champions Barcelona proved their worth against Chinese Super League Champions Guoan.
In the end European eloquence triumphed Eastern persuasion, Sport Scene was at the bird's nest with Tens of thousands Of Barcelona and Lionel Messi fans.
Fans flocked to the bird's nest stadium for a highly anticipated friendly match. Chinese Super League winners Beijing Guoan entertained the Spanish Champions in a keenly contested affair.
It wasn't long before slick passing would open the scoring, and another would follow soon after for Barcelona.
The biggest star of the night was Argentinean forward Lionel Messi, every one of his touches was greeted with huge cheers.
With Pep Guardiola looking on from the sides, his team rarely came unstuck, and when Zlatan Ibrahamovich side footed home the Spainish giants third, Barcelona's tour was a success.
All that was left from a bewildered Guardiola was to chew the fat with the hundreds of gathered media about the result before jetting off back to Spain.
Pep Guardiola, Barcelona Coach, said, Whether it's a friendly or competitive match, both are equally important. I think because we're all humans, the friendship makes up a harmonious relationship, but the ultimate goal is to always win.
Local Barcelona fans left the Bird's Nest happy at what they'd seen. Their idols performance lived up to expectations despite the absence of most of the first team.
Barcelona fan, said, "I'm satisfied with Baca's performance. And It's enough for me that Messi showed up. I came just to watch him.
Barcelona fan, said, "I'm a fan of Spain. There are many Spanish national players in the squad. I think Barca played a beautiful game.
It wont be long before Messi smiling again in La Liga, but until then, he and his team mates are happy to have made new friends in a new country.