Watch Video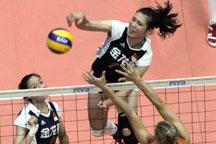 Play Video
In the FIVB World Women's Grand Prix final at Chengdu stage, China beat the Netherlands 3-1 to secure first place.
The Dutch team made use of some opportunities from China's early problems after they were struck by nerves. Dutch No. 12 Manon Flier threw out some threatening attacks and displayed ruthless efficiency to lead Holland for a 25-19 lead in the first set.
Li Yujuan and Wang Yimei were put onto court late in the first and started to shine out in the 2nd set. Wang was sharp with her powerful volley while Li was supplying improved quality passes into position so that China were able to organize their offense. After several fruitless attempts China finally managed to take a point with Li Yujuan knocking the hammer. The Netherlands' scoring power shrunk with the physical fatigue of Flier. China finally came back and sealed three straight sets 25-20, 25-15, 25-21 for the victory.
Italy beat Brazil 3-1
Elsewhere, Italy beat hosts brazil 22-25, 21-25, 25-18, 19-25 to take the victory 3-1 and Brazil stand in 1st place.
Editor:Zhang Pengfei |Source: CNTV.CN