Watch Video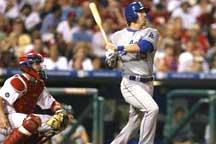 Play Video
In Major League Baseball two of the National League's most powerful teams combined for 24 runs on Tuesday. But would the Phillies or the Los Angeles Dodgers claim victory, once the smoke cleared in Philadelphia?
Citizens Bank Park, Philadelphia.
The Dodgers led 5-0 by the time the game reached the bottom of the 5th inning...and it was 7-2 Los Angeles when Ross Gload slammed a homer for Philadelphia. The two-run blast to right pulled Philadelphia within three, but the scoring action was just getting started.
Top of the 6th inning, The Dodgers' Jay Gibbons takes a Phillies pitch deep to right field. L-A had already scored two runs in the frame and Gibbons added two more. It was his first home run as a member of the Dodgers. Los Angeles led Philadelphia 11-4.
Philly scored a run in the bottom of the sixth but Los Angeles came right back. Pinch hitter Matt Kemp hit a bloop single to right field with the bases loaded, and two runners came around to cross home plate. The Dodgers took a 13-5 lead, but the madness continued.
Top of the 9th inning, The Phillies cut it to 13-7, but Casey Blake put the Dodgers back into a more-than-comfortable lead. His ball went into the first row of seats and, as according to custom, the home fans promptly threw it back.
Philadelphia threatened to make a final comeback, but pitcher Cole Hamels' fly ball ended the game. Los Angeles outhit Philly 18-14 and won it by a final score of 15-9.
Editor:Zhang Pengfei |Source: CNTV.CN