Watch Video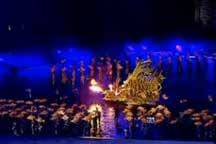 Play Video
The Youth Olympics will provide a new sporting experience for the youth of the world...and with tens of thousand spectators expected to attend, even the best laid plans continue to be rehearsed.
Ivan Heng is responsible for for the opening show of the 2010 Youth Olympic Games. He introduced the general flavour of the upcoming opening ceremony to gathered media.
The show will be divided into 10 parts, the first of which will be be a countdown to the opening ceremony with drums.
Music is the backbone to the production. Music talent comes from producer Iskandar Ismail, together with the team of 22 composers and arrangers. A soundtrack, made up of re-arranged music, will be produced to showcase local talents.
With Marina Bay as a backdrop, the audience can also expect a visual treat of flamboyant designs on the stage. Students from Lasalle College of Art will parade eco-friendly fashion designs made from recycled materials in the "Bud segment".
The show will also feature special costumes, including fire-retardant pieces from the show segment "Playing with Fire". It might not be quite the opening the World witnessed during the Beijing Olympics, but it will be equally special to all those competing.
Editor:Zhang Ning |Source: CNTV