Watch Video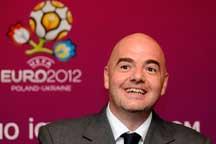 Play Video
Good news for Ukraine's preparations ahead of the 2012 European Championship. UEFA officials say Ukraine authorities are meeting their deadlines. UEFA General Secretary Gianni Infantino wrapped up a two-day trip on Thursday to check on Ukraine's four host cities for Euro 2012, which will be co-hosted with Poland.
A global economic downturn coupled with a harsh winter slowed early construction work, particularly in the western city of Lviv. However, the country now appears to have things back on track.
During his visit, Infantino said concerns over building progress in Lviv and the reconstruction of Kiev's Olympic Stadium had been mostly alleviated, and described the stadium in Donetsk as unexpectedly being one of Europe's most beautiful.
UEFA General Secretary, said, Gianni Infantino "(What) I can say at the end of this visit is certainly that I have full confidence and trust, and that I am very optimistic on the success of Euro 2012 in Ukraine."
Jitesse Arquissandas, General Director of NSC Olympiyskiy Stadium, said, "We are doing everything to finish in June 2011, that is one year before Euro 2012, right, which is more or less inside of the requirements. We need to, of course, arrange test fixtures, and we have to prove that it's operational, and that's always a decision from UEFA. But if the stadium is ready and operational, then from then it is not
Ukraine's responsibility, it's UEFA's responsibility."
Editor:Zhang Ning |Source: CNTV