Watch Video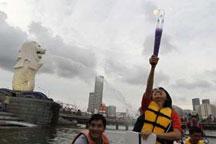 Play Video
Ceremonies leading up to the start of the games are underway, and the Youth Olympic torch completed its road to Singapore on Friday.
Nanyang Girls' High School was the first stop of the torch relay's final day. The students were excited to see the Olympic flame arrive, and Minister for the Environment and Water Resources Yaacob Ibrahim received the honor of getting the relay started.
One of the first torchbearers of the day was runner Cheng Siew Peng. She was born with a rare condition called joint laxity in her right knee. But Siew Peng overcame the pain to win a gold and two silver medals at the 2007 Special Olympics Summer Games.
The torch headed to the island of Sentosa at noon, and Siti Habysah carried the torch during a special sequence 42 metres above sea level, sailing over Sentosa's lush forest canopy and sandy Siloso beach. She handed it on to Joe Ang, who carried it across the bridge.
The flame then made a short stop at the headquarters of the Singapore Youth Olympic Games Organising Committee and chief executive officer Kee Nguan Goh carried it from there. One of athletics' biggest stars, pole vault queen Yelena Isinbayeva, also carried the torch.
The Russian is working as a Youth Games Ambassador as she takes an extended break from competition. The flame then travelled on a dragon boat to its final stop, Marina Bay, and the Promontory building where the flame was passed to Singapore's Minister Mentor Lee Kuan Yew. He lit the cauldron to mark the end of the torch relay's journey to the site of the Games.