Watch Video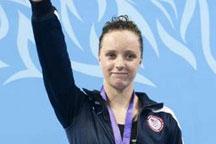 Play Video
In the women's 200-metre individual medley, it was a battle between Russia's Kristina Kochetkova and Kaitlyn Jones of the US.
Jones caught up with Kochetkova and went ahead in the final 25 metres to win in two minutes 14.53 seconds.
The Russian had to settle for silver while Barbora Zavadova of Czech Republic took the bronze.
Tian Yuan lifts gold in women's 48kg
Chinese female lifter Tian Yuan was the star of the day at the weightlifting event where she set two youth world records in the women's 48-kilogramme category.
Tian Yuan hoisted a total of 190 kilogrammes to win gold.
Thack Kim Tuan upsets Xie jiawu to win gold
In the men's 56-kilogramme category, Vietnam's Thack Kim Tuan produced a stunning final lift to upset China's Xie Jiawu and win gold. Thack lifted 256 kilogrammes, two more than Xie, to win the first gold medal for his country.
Haimovitz wins men's 48kg taekwondo
Israel won their first gold at the Youth Olympics when favorite Gili Haimovitz triumphed in the men's Taekwondo 48-kilogramme category.
The Israeli had beaten Argentina's Lucas Guzman in the semi-final to earn a place in the gold medal match.
However in the final, another finalist Mohammad Soleimani of Iran withdrew to hand the gold medal to Haimovitz.
USA thrash Turkey in 3-on-3 opener
Basketball at the Youth Olympics is popularly called three-on-three. One of the keenly anticipated games of the day saw traditional basketball giants USA taking on Turkey.
The American duo of Angelo Chol (ten) and Brandan Kearney (eight) combined for eighteen points as the US dominated Turkey in the game. the US won 23-18.
Editor:Zhang Pengfei |Source: CNTV.CN