Watch Video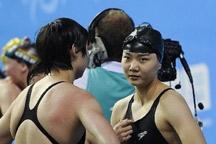 Play Video
Day two proved to be a heartbreaking day for China's swim team. It lost a gold medal due to disqualification.
China's squad of Bai Anqi, Wang Chang, Liu Lan and Tang Yi produced a stunning performance in the women's 4 by 100m medley relay.
Bai gave China an early lead in backstroke.
Later Wang Chang extended China's lead in the breaststroke to 0.52 seconds.
Liu Lan further stretched the cushion to 1.68 seconds in the third relay, and Tang Yi held onto a huge margin in the freestyle. China finished first in a combined time of 4 miutes 7.43 seconds.
But competition officials shocked the young Chinese swimmers...the gold medal was stripped as third leg swimmer Liu Lan left before Wang Chang touched the wall. China was disqualified, handing Australia the gold. Russia settled for silver and Germany took bronze.
Related stories
Editor:Zhang Jingya |Source: CNTV.cn