Watch Video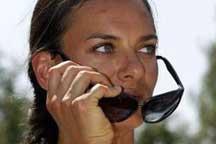 Play Video
Russian pole vault queen Yelena Isinbayeva is sprinting toward a comeback. The Olympic champion says she will return to competition as early as February of 2011. The Russian decided to take a break from training and competition in May. But Isinbayeva said on Monday, she had become bored after regaining some much needed rest during a three-month sabbatical.
Yelena Isinbayeva said, "But all these three months when I had break, I woke up and I was wondering, 'What I gonna do today?' So every day it was like, for nothing. And I was afraid that I spend my life for nothing, without any purpose. So that was really difficult because every time when I do sport, I thought that I miss some normal women's life. But now I recognize that my life is much more interesting, colorful, and I don't' know,it's something."
Isinbayeva is in Singapore for the inaugural Youth Olympics. She is acting as ambassador to the games. Besides meeting and speaking with the athletes, Isinbayeva took part in the torch relay, and ran with the Olympic flame on Friday.
Editor:Zhang Ning |Source: CNTV