Watch Video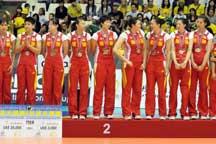 Play Video
China's national women's volleyball team is still trying to figure out how to beat its biggest rival. China looked for the key to unlocking the mystery in a face-off against Brazil in the title match at the FIVB Macao Grand Prix.
Brazil came in at 2-0, China 1-1...so a win could have seen China take the title. But the Chinese had to deal with injuries to Hui Ruoqi and Li Juan. They had to watch from the sidelines.
China got off to a poor start. The women struggled to find their rhythm on both offense and defense. Brazil quickly took the first set lead.
Head coach Wang Baoquan tried to spark the home side by bringing Li Juan into the match. But Li had yet to recover from the shoulder injury she suffered against the Dutch and was not a factor. Brazil soared to a first set win, 25-12.
China was unable to muster any kind of comeback during the second set. Brazil outhit China in the game, scoring 40 points off of spikes. China only scored 27. Brazil dominated at the net and left China looking at a two set disadvantage.
China couldn't turn things around in the third set. Brazil sweeps the title match 3-sets-to-none to win the Macao Grand Prix.
Editor:Zhang Ning |Source: CNTV