Watch Video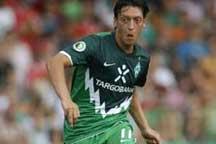 Play Video
Werder Bremen prepared for the first leg of their UEFA Champions League play-off against Sampdoria without Mesut Oezil, as news emerged that the 21-year-old midfielder is set to sign for Real Madrid.
Oezil was not in the training session. The midfielder has become the second member of Germany's third-place World Cup squad to move to Real Madrid.The two clubs hurried to complete the transfer before Bremen's Champions League qualifying game against Sampdoria. Oezil would not have been eligible to play for another club in the competition if he had been in Werder's line-up.
Werder Bremen manager Klause Allofs said, "In our negations with Real we made them clear that this had to be decided today and not some time in the future, but today. And I think it's very important to the team, for example, that the team could train relaxed today and that they know that they have to start the game tomorrow without Oezil."
Editor:Zhang Ning |Source: CNTV