Watch Video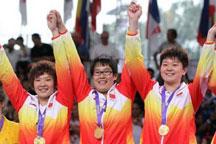 Play Video
Youth Olympics: China wins women's basketball gold
A little bit of history on the line for Chinese basketball as the Youth Olympics games continued in Singapore. The women's team, headed into the 3 on 3 finals against Australia looking to win China's first ever women's basketball title at the Olympics.
It was China who dominated the first half of play. Thanks to consecutive 3-pointers, China opened up with a 7-0 run and jumped out big early, leading 12-4. They kept the momentum going, wrapping up the first half with a commanding 20-9 lead.
Australia though, bounced back well in the second, cutting the gap to 4 points.
But the Chinese girls wouldn't let the gold slip away. With Ma Xueya's free throw, China won the match 33-29, marking the first time that they have topped a World event.
Chen Luyun, Women's Basketball Coach, said, "We had prepared to have a difficult battle, but we didn't think it would be so easy in the first. We guessed that our opponents would change their tactics in the second, but our players didn't suit their tactics at first, and didn't change their defence, so they shortened the gap."
Gu Yuting claims table tennis title
Over in the women's table tennis singles, China's Gu Yuting faced Singapore's Li Isabelle Siyun. ITTF president Adham Sharara
among the boisterous crowd who turned out to support the local player Li. Gu however, no problems turning aside the local
hope. She swept Li 4 games to none to win the Youth Olympic title.
Related stories