Watch Video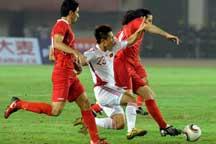 Play Video
China's football team saw some action in a friendly match against Iran in Zhengzhou. But the match turned into a nightmare for the host squad as the Iranian side played a precise, attacking game.
China got off to a solid start, Rong Hao tried a shot in the 6th minute effort. Iran's goalkeeper knocked it away and saved a 0-0 scoreline early.
The home team would get close again in the 35th minute. Yang Xu received a pass in perfect position, but his strike sailed over the crossbar still no score.
That gave Iran the chance to strike first. China's defense failed to deal with a cross and Iran took full advantage of the chaotic scene. Andranik Teymourian saw the ball come his way and he directed it into the net with his right foot. Iran took a 1-0 lead.
12 minutes after the start of the second half, Iran's Mohammad Gholami found himself on the receiving end of a one-two. He got past the China 'keeper and sent the ball into an empty net...2-0 Iran.
11 minutes later China almost cut the margin in half. Yu Hai tapped in from close range, but the referee ruled no-goal due to offside
Iran wins the match 2-0. China settles for a disappointing home-pitch defeat.
Editor:Zhang Pengfei |Source: CNTV.CN