Watch Video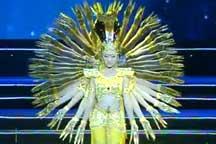 Play Video
Switching to the upcoming Asian Para Games in Guangzhou where organizers are celebrating the 100-day countdown to the start of the event.
They held the ceremony, called "Glory of Asia, Light of Life", at Tianhe gymnasium on Friday.
Deputy Secretary of the Guangdong Provincial Committee of the Communist Party of China, Huang Huahua, joined the executive president of the Guangzhou Asian Para Games organizing committee to begin the ceremony.
They unveiled a commemorative stamp for the Games, and announced corporate donations of more than 30 million yuan. The gala's four chapters included themes like " We cheer, we share, we win" and "viva for shining life", and it featured donation activities on-stage.
The program also featured a number of celebrities from Mainland China, Hong Kong, Taiwan, South Korea and Singapore.
Editor:Zhang Pengfei |Source: CNTV.CN