Watch Video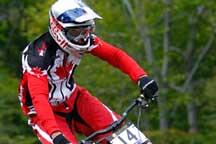 Play Video
One of the toughest sports in the upcoming Asian Games promises to be the mountain bike event. Games organizers, building on the model of the Beijing Olympics, have designed a difficult course for the riders.
A test event took place over the 5,037 meter course, which is located in a park in uptown Guangzhou. The outlay of the course follows that of the Beijing Laoshao Course which was used during the Olympic Games. The courses difficulty has been scaled down from the Olympics, but will still be a tough test for the best riders Asia has to offer. The course will feature numerous climbs and tough corners which will promise to push the riders skill level and stamina to the limit.
Li Zhiqiang, the leader of China cycling team said, "The height of the steepest slope is 75 meters. And the steepest angle is 30 degrees. There are several turns and twists which will be quite challenging for the riders and their biking skills. "
Editor:Jin Lin |Source: CNTV.CN