Watch Video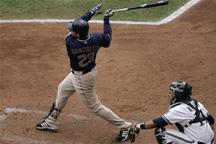 Play Video
Adam Wainwright has been in immense for of late, that or he's a lucky omen after he won his 19th game for the Cardinals, as St. Louis defeated the San Diego Pares 4-1.
The Cardinals started strongly and at the bottom of the first inning, Matt Holliday singled to center field off Padres starting pitcher Jon Garland. Jon Jay scored from second base to give the Cardinals a 1-0 lead.
Two batters later and St Louis third basemen Pedro Feliz hit a sacrifice fly with the bases loaded. The throw from right fielder Ryan Ludwig was too slow and Albert Pujols scored and St. Louis were ahead 2-0.
Cardinals starting pitcher Adam Wainwright pitched himself out of trouble in the top of the fourth inning. Wainwright struck out Chase Headley with the bases loaded. Wainwright pitched eight innings, allowed one run on five hits, and struck out seven Padres.
The Cardinals added another run in the bottom of the fourth inning. Brendan Ryan hit a fly ball to deep center field that was tracked down by Will Venable. Venable caught the ball running backward allowing Colby Rasmus an easy score on the sacrifice fly to put the Cardinals ahead 3-0.
In the bottom of the sixth inning, Rasmus smashed a first pitch over the fence for a solo home run. That was his 23rd home run on the season for the Cardinals. It gave St Louis a 4-0 lead.
There was one final chance to swing the game for the Padres at the top of the ninth. With a runner on second base, Cardinals closer Ryan Franklin forced Padres pitch hitter Matt Stairs to hit a high pop up into foul territory.
MLB: Atlanta defeat NY Mets 6-3
Elswhere, Derrek Lee launched a go-ahead grand slam home run in the seventh inning that sent the Atlanta Braves to victory over the New York Mets 6-3 at City Field for a three-game sweep. Alex Gonzalez contributed a pair of RBI singles for the Braves. Atlanta have won four straight road games after struggling away from Turner Field all year.(OUT)
Editor:Jin Lin |Source: CNTV.CN