Watch Video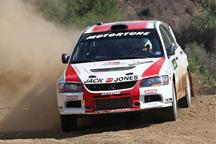 Play Video
The 33rd Rally of Lebanon, providing yet another opportunity for local star Roger Fegahli to put on a show as he sped to his eighth Rally of Lebanon victory over the weekend. Misfer Al Marri continues to lead the Middle East Rally Championship after claiming seventh.
The 33rd Rally of Lebanon marked the fifth round out of eight in the 2010 Middle East Rally Championship.
Roger Fegahli would give his countrymen reason to celebrate, taking the title.
For the first time since the 1990s the event contained some night stages - four to be exact.
The UAE's Khaled Al Qassimi was the top M.E.R.C. performer. He added a maximum ten points to his tally for the season after spending most of this rally in second place. Khaled Al Qassimi was the runner-up in his Ford Fiesta S2000 as, once again, Fegahli triumphed.
Having built a healthy lead after the first leg, Fegahli overcame a broken drive shaft on the final day.The Lebanese star completed the final four stages in two-wheel drive in his Skoda Fabia but still managed to win by over six minutes.
At the wheel of a Mitsubishi Evo VII, Fegahli's cousin, Ziad, was third behind Al Qassimi. Ziad gained a place after beginning the final leg in fourth.
A former UAE national champion and Group N Middle East winner, Ziad Al Qassimi finished fifth overall, more than eleven minutes behind the rally's victor.
Related stories
Editor:Jin Lin |Source: CNTV.CN