Watch Video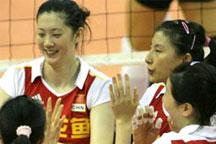 Play Video
The Chinese Women's Volleyball team have breezed past last year's Asian Champions Thailand to defend their Asia Cup crown in Jiangsu Province. The ladies ran out 25-23, 25-21, 25-19 winners and can claim that they have not lost a single match on way to their title.
Thailand were the surprise package at last year's Asian Championships after winning the title. As such, China refused to underestimate their opponents and sent experienced key players onto court and made a flying start.
They went 18-12 ahead...but Thailand's powerful spiking and their opponent errors gave South Asians 5 consecutive points which made it a close contest.
China's new head coach Yu Juemin quickly singled a time out to adjust tactics and saw the side hold onto their advantage winning the first 25-23.
China kept up the pressure in the second. Ma Yunwen combined with Wang Yimei to give her opponent no chance of scoring. Thailand couldn't break China's defense, and lost the second set 25-21.
Thailand refused to give up and made a fist of it in the third. China kept making errors and giving away points which Thailand capitalized on moving 8-6 ahead. But Wang Yimei's side bounced back to dominate the later stages before running out 25-19 winners in the third and with it the match. So it was a successful title defence for a a coach who only took the job on a few days ago.
Yu Juemin, China Head Coach, said, "We prepared very well against Thailand. As we know, they won last year's Asian Championship. We worked hard today, and the players cooperated with each other very well. Also the tactics we used today were good, specifically against Thailand. I appreciate my players, they've done a great job. "
While China's female volleyballers were celebrating their win, the same can't be said for the men's team. They're in Italy fighting it out in a Championship but were whitewashed 3-0 in their game against Bulgaria.
Editor:Du Xiaodan |Source: CNTV.cn