Watch Video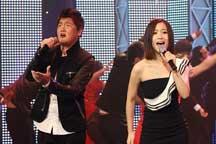 Play Video
The Asian Games now has it's official theme song. The official announcement made in Guanzhou on Friday and the name of the winning song, is fittingly called "Reunion."
In the release ceremony, groups of singers performed the candidate songs for the Asian Games, including Sunrise in the East, Reunion, and Best Elegancy.
The votes were then counted according to an internet poll and the one with most votes would become the theme song for the Guangzhou Asian Games. CPC Guangzhou Committee Standing Member Wang Xiaoling later issued the certificate and the cup to the writer and the composer of the song.
Sun Nan, Popular Singer, said, "I think our writer and our composer of the song - they share the same feeling with me right now, which is to go celebrate it. Hope our Asian Games will be a significant success and place itself among the most successful events."
Pop star Sun Nan presented himself at the ceremony and delivered the song to the audience. Here is a piece of it.