Watch Video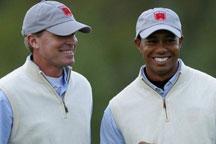 Play Video
One day after Ryder Cup golfers got a soaking at Celtic Manner - a reluctant sun appeared on day two as the US took control early on but then saw Europe stage a vital comeback.
In session one, Steve Striker, playing with Tiger Woods, nailed a long chip in at the 12th to help them beat English pairing of Ian Poulter and Ross Fisher for 2-up win.
The US then stretched their lead thanks the rookie pairing of Jeff Overton and Bubba Watson. Overton ripped off four straight birdies from the ninth for 3-up lead.
In Foursomes Woods and Stricker won their their second straight match over Miguel-Angel Jimenez and Peter Hanson consolidating the lead.
The new pairing of Jim Furyk and Rickie Fower stole a half-point from top-ranked European Lee Westwood and Martin Kaymer.
In final session, Luke Donald and Westwood birdied the first two holes against Woods and Stricker
Ian Poulter and Kaymer won the first two holes against struggling Phil Mickelson and Fowler.
Molinari brothers found two consecutive birdies to assume a narrow lead in their match. Europe look as though they'll stage a comeback but for the moment the Americans remain in control, 6-4.
Corey Pavin, America Captain, said, "Well I would probably be happier if we were up in all six matches on the golf course, but like I said, we are up 6-4. These matches are early in the matches, obviously we are not in the position we would like to be in, so we just have to try and go out there tomorrow and try and win some holes and switch this back around and you see how momentum changes in the Ryder Cup. It looked like it was going in our favour after the second session and now it looks like it is going in Europe's favour now, so we will see what happens when we get back out there tomorrow."
Editor:Zhang Pengfei |Source: CNTV.CN