Watch Video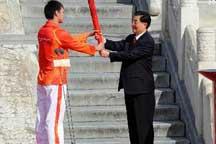 Play Video
The 16th Asian Games will get under way in just one months time and will bring together more than 11,000 athletes competing across 42 sports. Today also marks the start of the torch relay, which began in Beijing.
The torch was lit and the relay began at Beijing's spectacular Temple of Heaven, where emperors prayed for good fortune and harvests in ancient times.
President Hu Jintao and Sheikh Ahmad Al-Fahad Al-Sabah, President of the Olympic Council of Asia, were among the distinguished guests.
Officials expressed their best wishes.
Liu Peng, director-general of China State General Admin of Sports,said, "In one month's time, the 16th Asian Games will open in Guangzhou. This is another major international sport event held in China, after the Beijing 2008 Olympic Games. The Guangzhou Asian Games will be an occasion to showcase the sportsmanship of the Asian athletes, and the aspiration of the Asian people for peace, friendship and progress."
President Hu Jintao lit the main torch at the Hall of Prayer for Good Harvest.
He then passed it to the first torch bearer Zhang Lin, the first Chinese male swimmer to win a world title.
15 others are also participating in today's Beijing leg. A total of 2010 torch bearers will carry the flame.
The route goes through three northeast cities: Changchun, Harbin and Haiyang, as well as around Guangdong province. On November 12th, the relay will conclude in Guangzhou with the lighting of the Asian Games Cauldron at the opening ceremony.
Related stories
Editor:Zhang Ning |Source: CNTV