Shanghai, busier than normal this week...and the Tennis Masters is joining forces with the Expo. The two world class events are working together to ensure that visitors taking in the tennis also get an Expo experience.
No, these are not bodyguards for a high profile arrival to Shanghai.
They are actually an English comedy troupe...putting on a show for fans taking in the Masters tennis event.
Their performance, part of the Shanghai Masters UK National Pavilion day.
Deputy Director of the UK Pavilion David Martin and Brad Drewett, CEO of the ATP International Group both took part in the ceremony.
During the two week-long tournament, countries from around the world are teaming up with organizers to bring a taste of the Shanghai Expo to spectators.
While enjoying the matches, tennis fans can also visit exhibitions from various Expo pavilions inside the tennis center. There visitors can experience different cultural atmospheres.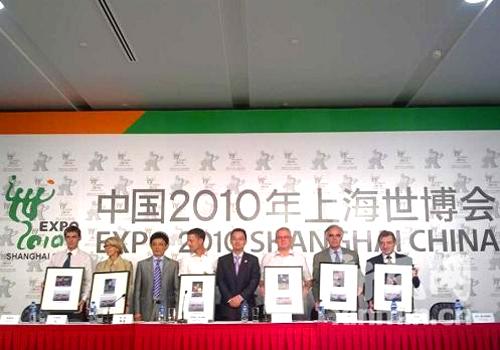 Tennis Masters is joining forces with the Expo.
Nations taking part include Spain, Switzerland, Serbia, the UK, the Czech Republic, Sweden and Argentina. These nations, among the traditional tennis powerhouses and some of their tennis stars will be invited to interact with fans at their displays as the tournament continues.
Shanghai Masters fans will also have an opportunity to win a ticket to the Expo...as some tennis tickets will qualify them for a chance to win a pass to the Worlds' Fair. And it works the other way, too.
Anybody with an Expo ticket will also receive a discount on tickets for the Shanghai Masters which lasts until the 17th.
Editor:Jin Lin |Source: CNTV.CN