Watch Video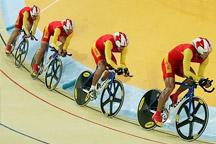 Play Video
The China national track cycling team is getting ready to race. The crew is training at the Laoshan Velodrome in Beijing, for the upcoming 16th Asian Games.
This was a ordinary training day for China national track cycling coach Daniel Morelon. He led the women on his team aboard a motorbike. All the China track cyclists are lucky to have the 7 time world champion from France coaching them. He believes that many of the country's talented riders will become world beaters on the track. It's just a case of more practice at big events like the Asian Games.
Daniel Morelon,Team China Coach, said, All my cyclist are talented. They made their progress step by step. I am happy to see that. My cyclists need continue to train more and take part in more international competition,and they will succeed. Guo Shuang is the best on my team now. I do not worry about her at all. The Asian Games is not the biggest event for her. She is a veteran cyclist and very experienced.
With Morelon's words ringing in her ear, Guo Shuang went on to win the bronze medal at the Beijing Olympic Games. She's won World Cup titles, and two golds at the last Asian Games in Doha. She is most likely to produce the nation's best hope for a medal in Guangzhou. Guo also doesn't think it will be her biggest challenge.
Guo Shuang, Team China Cyclist, said, This will be my second time to take part in the Asian Games. The last time was at Doha. I do have more experience. But track cycling is a game of chances. I can't be sure I will win. But for me winning completes the details. I will give my best at the upcoming Asian Games.
Guo Shuang is aiming to achieve her next goal and get an Asian Games title under her belt. But she is not the only cyclist geared for success. Guo and the rest of China's track cyclists are ready to compete and look to future victories in the sport.
Editor:Yang Jie |Source: CNTV.CN