Watch Video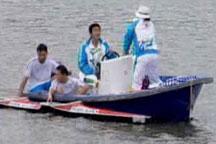 Play Video
The gold medalists usually provide the most shining moments at the Asian Games. But two athletes from Mongolia showed the spirit of sport in the men's Kayak Double 1000-meters. They didn't win a medal during their disappointing run, but they kept competing to the end of the match.
Baldangombo Purevsuren and Gankhuyag Erdenebulgan represented Mongolia at the Men's Kayak Double 1000m on Monday. They spent a full minute at the starting spot, getting their boat ready for action.
The two athletes were supposed to work in-concert to make the most of their run down the course. But as time went on, it was apparent that they could not keep their boat in the right direction, and they fell into the river. The rescue boat arrived, but the competitors waved it off. They did not want to go back to the shore. The judges agreed. The kayakers were allowed to continue at the training course, but the rescue boat was ordered to follow them in case of another emergency. They finally surmounted the challenge, and finished the competition.
One of the men, Baldangombo Purevsuren fell in the water before, in the men's Kayak Single 1000.
Baldangombo Purevsuren from Mongolia said, "Ridding a horse is much easier than Kayak, but I will try my best."
This was the duo's first match at the Guangzhou Asian Games, and also the last. They felt depressed that they didn't advance to the next round. It was clear that the two men are not the professional athletes. Their loose-fitting t-shirts gave them the appearance of soccer players.
They started training just two months before the Asian Games. Given that Mongolia only has three boats for training, the pair's performance was not so bad.
Gankhuyag Erdenebulgan from Mongolia said, "We don't have a professional training course. It is cold in Mongolia, so we only train in summer in a pond or small river. So our level is not very high. We only had a coach to teach us the basic movements."
But what the athletes -do- have is competitive spirit. Even though they lost the match, they say they'll continue to practice for the next time.
Editor:Zheng Limin |Source: CNTV.CN