Watch Video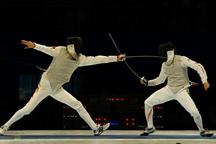 Play Video
The Chinese fensing team have just had their glory in the fensing court in the Guangzhou Asian Games. They claimed the top of the podium in men's fleuret team competition, beating a strong Japanese side.
With Zhu Jun's winning touch, China were on a comeback to lead the game 15-13 after three rounds. Next on stage were China's Huang Liangcai and Japan's Fukuda, both having lost a round. The combat might be so fierce that Fukuda's sword overbented. He made the claim and started fixing it at the courtside. It proved again that everything matters in a crucial and precise game. Fukuda came back on court like a different guy and took over the lead at 20-17 for Japan, with a 7-2 round. In round 7, Chinese coach Wang Haibin decided to send substitude Zhang Liangliang instead of Huang. Zhang's task would be to maintain the 30-27 lead, and he even extended it into 35-29.
Zhang Liangliang said, "I must be stable and control the pace on stage, once I'm sent in. The Japanese players are fast and we don't have to be passive. I followed the coach's instruction. "
The 6-point gap changed the psychology in the court as it came to round 8. China was not desperate to score more points while Japan was worried to concede any more. The Japanese player also received a yellow card for this hug he forced.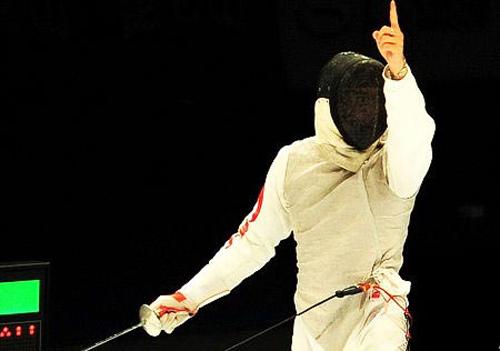 The Chinese fensing team have just had their glory in the fensing court in the
Guangzhou Asian Games.
The last round was between China's Lei Sheng and Japan's Ota. Single round 8-4 for a total 45-35, Lei Sheng roared uphigh loud. China won it at last.
Lei Sheng said, "Although we were holding quite a lead, I stick closely to the game without any loose mind. Until winning the last hit did I finally dare to make a shout. I didn't perform well in the individual match, but we really prepared fully for the team game. "
Wang Haibin said, "The key is preparation, along the way in the individual matches and in the team game, including in the earlier world championship as well. Today we had a tough time in the middle of the game. It was a real challenge for our players, but they stood up to it. I think they did quite well. "
Proud indeed as what China have grasped is a most heavyweight men's fleuret team gold.
Editor:Jin Lin |Source: CNTV.CN