Watch Video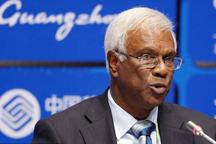 Play Video
A second doping case has emerged at 2010 Asian Games. An Uzbek wrestler tested positive in a pre-competition test and has been disqualified.
from the event. My colleague Wang Guan has more details from Guangzhou.
The Medical Committee of the Olympic Council of Asia announced the second doping case at the Guangzhou Games involves another athlete from Uzbekistan.
"We encountered the 2nd anti-doping rule violation ...the pre-competition testing of Uzbek wrestler Jakhongir Muminov ...was found to contain Methylhexaneamine, a banned substance..."
The 23-year-old wrestler competed in the Greco-Roman 84kilogram division and lost in the Quarterfinals. The Medical Committee nullified his performance.
The drug he tested positive for is a stimulant used widely as a nasal decongestant.
It can also be found in dietary supplements
It is also the same drug found in the first doping case, which also involved an Uzbek athlete. Shokir Mumimov, won a silver medal in judo's 81-kilogram division. But his medal was taken away and he was thrown out of the competition.
But the OCA insists the two cases are not related and at this point, there is no evidence showing this is a collective doping incident.
"We each take each doping incident separately. But because the cases involved the same substance and the same delegation. We instruct relevant NOC to try to investigate and find the source of this substance to prevent similar occurrences in future."
Currently, a positive test for this drug carries a two-year ban but the substance will be re-classified in January. In the New Year, if athletes prove they did not intend to take the substance to enhance performance, there will be more room for leniency, and then a punishment might be as light as a warning.
So far, the medical committee of OCA has conducted more than 13-hundred urine and blood tests, with only two positive results for banned substances.
Wang Guan, CCTV reporter said, "In response to the question that both athletes involved in doping are surnamed Muminov, and both are from Uzbekistan, the medical committee of OCA says the two athletes are not related and it is not considering any harsher punishment on the delegation, since the testing of the rest of the Uzbek team have been negative. Wang Guan, CCTV, GZ."
Editor:Jin Lin |Source: CNTV.CN