Watch Video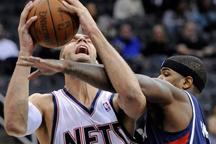 Play Video
After getting crushed by the Boston Celtics 99-76, the Atlanta Hawks visited the New Jersey Nets. The Hawks struggled from the outset of Tuesday's game.
In the first, Jordan Farmar fed Derrick Favors to make it 27-17 Nets. New Jersey led 31-21 by the end of the 1st quarter.
3 minutes into the 2nd quarter, Atlanta's Jeff Teague stole the ball from Kris Humphries - he found Josh Smith and his 3-point play cut the deficit to five points for the Hawks.
Midway though the 3rd quarter, there were some encouraging signs for the visitors and Mike Bibby drained a 3-pointer to trim the Nets lead to 63-60. New Jersey led 70-67 at the end of the 3rd quarter.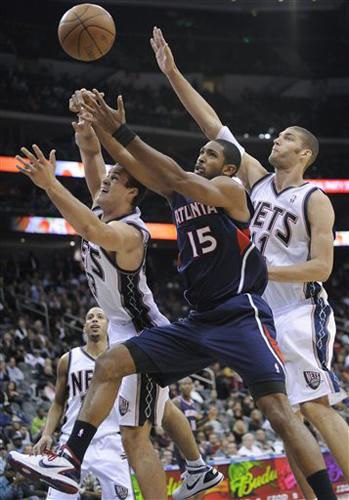 New Jersey went on to beat Atlanta 107-101
The Nets built their lead back up to 85-78 on Lopez' jumper off an assist from Harris. But the Hawks tied the game up at 93-all and sent the game into overtime.
Early in the extra session, from some crisp passing the Nets moved back in front 95-93 from Lopez in close. Lopez scored a season-high 32 points on the night.
With just over minute to go, Harris canned a 26 foot 3-pointer to extend the Nets lead to 103-97. New Jersey went on to beat Atlanta 107-101.
Editor:Jin Lin |Source: CNTV.CN