Watch Video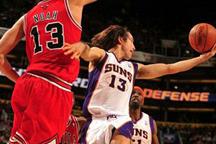 Play Video
Time to look-in on an epic regular season performance from two teams in the NBA. Derrick Rose helped the Bulls rally from a big second-quarter deficit against the Suns, and was the key player in a game that took double-overtime to decide.
In the first Quarter, The Suns took the lead 12 seconds into the game and piled on the first-half points. Steve Nash went baseline and sank a reverse layup. Phoenix led 29-8.
Hakim Warrick took a pass midway through the second quarter. He connected and drew the foul from Brian Scalabrine. Warrick's free throw put Phoenix ahead by 23 points.
The Suns kept the beat going behind Grant Hill. He beat Rose on this play and closed with a team-high 27 points...Phoenix was still up 18 in the third quarter.
But Chicago steadily cut into the margin. Joakim Noah yanked the ball out of Nash's hands. Rose found James Johnson with a perfect bounce-pass for a finish at the rim. The Bulls came all the way back to tie it. 99-all.
The game was still tied at 101 in the last seconds. Nash went to Hill for the buzzer-beating game winner...but he was off-the-mark. Overtime.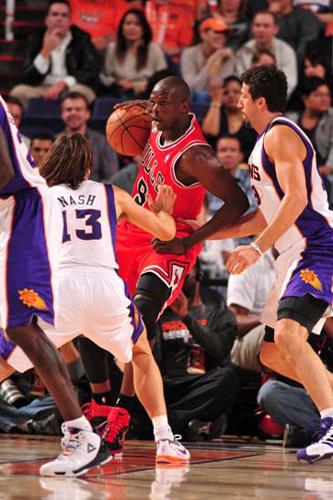 Chicago outlasts Phoenix 123-115.
Chicago took a quick lead in the extra frame, but Nash found a wide-open Jason Richardson. The Suns moved into the lead 108-107.
Chicago's last chance. Noah fed Rose, and he went reverse for the tie. Rose scores with a tenth of a second left, and the teams go to double O-T. 111-111
Rose went one-on-one with Richardson,and the 2009 NBA Rookie of the Year simply powered past him. Rose drew the foul and Chicago led by 3.
Then the Bulls' Luol Deng beat the shot clock. He stunned Hedo Turkoglu to make it a five-point game. Chicago outlasts Phoenix 123-115.
Editor:Jin Lin |Source: CNTV.CN